Board Members
The Board's five members serve concurrent four-year terms as the nation's only elected tax commission. Their popular election ensures that the Board's tax program administration remains directly accountable to the people. Four members are elected by district. The fifth member, the State Controller, is elected at large and serves in an ex officio capacity.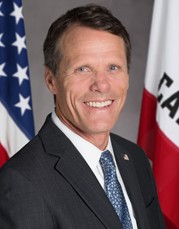 Ted Gaines, First District – Counties of Alpine, Amador, Butte, Calaveras, Colusa, El Dorado, Fresno, Glenn, Inyo, Kern, Kings, Lassen, Madera, Mariposa, Merced, Modoc, Mono, Nevada, Placer, Plumas, Sacramento, portions of San Bernardino, San Joaquin, Shasta, Sierra, Siskiyou, Solano, Stanislaus, Sutter, Tehama, Tulare, Tuolumne, Yolo, and Yuba.
Elected in November 2018 and re-elected in November 2022, Ted Gaines represents the Board of Equalization's First District. He is a leading taxpayer advocate and is committed to providing trustworthy and transparent representation for the nearly ten million constituents in 30 counties of northern and eastern California.
Prior to his election to the Board, Ted served 12 years in the State Legislature where he was a tireless voice for California's taxpayers, ratepayers, businesses, and families. He also fought to protect citizens' privacy and led major efforts to bring thousands of new jobs to the state, as well as supporting critical legislation to strengthen and expand California's infrastructure.
Ted began his public service career in local government as a member of the City of Roseville's Planning Commission from 1997 to 1999. In 2000, he was elected to the Placer County Board of Supervisors and re-elected in 2004.
Ted is a devoted public servant who is dedicated to delivering excellent service to constituents and taxpayers as well as providing helpful information and outreach opportunities.
In addition to his life in public service, Ted is a successful small business owner, having owned Gaines Insurance for more than 30 years. He has been married to his beautiful wife Beth since 1985 and together they reside in El Dorado County and are blessed with six children and three grandchildren.
For more information, see Ted Gaines' Home Page.
---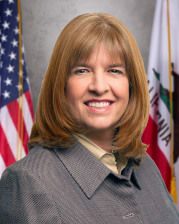 Sally J. Lieber, Second District – Counties of Alameda, Contra Costa, Del Norte, Humboldt, Lake, Marin, Mendocino, Monterey, Napa, San Benito, San Francisco, San Luis Obispo, San Mateo, Santa Barbara, Santa Clara, Santa Cruz, Sonoma, Trinity, and Ventura.
Sally J. Lieber represents the California State Board of Equalization's Second District. In January 2023, Lieber was unanimously elected Vice Chair of the Board. As the member for District 2, Vice Chair Lieber represents 10 million constituents from as far north as Del Norte County to as far south as Ventura County. District 2 is home to the ancient California redwoods, the wine industry in Napa County, the innovation capital of the world in the Bay Area and Silicon Valley, and the beautiful and breathtaking Pacific Coast.
Prior to her election to the State Board of Equalization, Vice Chair Lieber served in both local and state office representing the Silicon Valley. Vice Chair Lieber was elected to the Mountain View City Council in 1998, where she served as Vice Mayor and Mayor. She also served on the Valley Transportation Authority's Board of Directors, chaired the Santa Clara Valley Water District's Water Commission, and served on the Santa Clara County Social Services Advisory Commission. As a Councilmember, Vice Chair Lieber implemented local tobacco control legislation, created green energy initiatives, and recruited many of California's most successful businesses.
In 2002, Lieber was elected to the California State Assembly. In the State Assembly, Lieber became only the third woman to hold the office of Speaker Pro Tempore. Lieber was known throughout the State Capitol as someone who had the courage to take on tough progressive issues – many of which have now become mainstream progressive values – including increasing California's minimum wage; expanded Cal Grants for college students; increased supportive housing and housing for low income households; and LGBTQ+ rights.
Vice Chair Lieber's achievements in the California State Assembly include authoring laws that made human trafficking a felony in California; established the Sexual Assault Victim's Bill of Rights; expanded the California Assault Weapons Ban; extended courtroom protections for developmentally disabled and cognitively impaired victims of crime; banned the use of the 'panic defense' in hate crimes cases; banned the practice of shackling California inmates in active labor; created the Ocean Protection Council; established the San Francisco Bay Restoration Authority to address sea level rise; clean air protections that have been credited with removing 10+ tons of cancer-causing particulate matter from our air each day; and secured funding for energy efficient 'green' schools throughout California.
Vice Chair Lieber's volunteer work includes helping youth and adult offenders receive access to educational opportunities; serving as part of a coalition to stop wage theft throughout the Bay Area; securing permanent funding for successful teen pregnancy prevention; leading local gun violence reduction measures; and working to provide humanitarian aid, helping with emergency response, and taking care of the needs of children and families fleeing wars in Syria, Iraq, and Afghanistan.
For more information, see Sally J. Lieber's Home Page.
---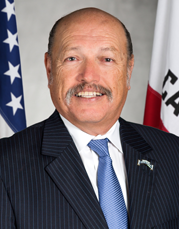 Antonio Vazquez, Third District – County of Los Angeles.
Antonio Vazquez, a Member of the State Board of Equalization (BOE) representing the 3rd District, was elected to the Board in November 2018 and re-elected in November 2022. His district covers all of Los Angeles County. He is the first Latino ever elected to the BOE since its inception.
Vazquez brings to the board over 20 years of business and government experience involving strategic and long-term planning, business development, and municipal and legislative advocacy. He is known as a tireless advocate for responsible growth and development, fiscal responsibility, public safety, affordable housing, open and responsive government, and education to improve the quality of life for all Californians.
As District Director for former Los Angeles City Councilman Richard Alarcon, Vazquez was instrumental in revitalizing the poorest areas of the northeast San Fernando Valley and redeveloping the former General Motors plant. He served over ten years on the Santa Monica City Council, including terms as Mayor Pro Tempore in 2015 and Mayor in 2016. Vazquez was the first Latino ever to serve as Mayor since the city was incorporated in 1886.
As Mayor of Santa Monica, Vazquez advocated for streamlined business licensing and regulations, implemented innovative transportation projects, worked to obtain funding for affordable housing, promoted the passage of the city's Minimum Wage ordinance, supported the transitioning of the homeless into permanent housing, fought for local control of airport lands, and led the City Council in adopting a comprehensive Downtown Community Plan.
In the private sector, Vazquez served as the Southern California Regional Director for California Futures Network, where he promoted smart growth policy and legislation in the state of California, and as Community Planner for the United Way of Greater Los Angeles, where he facilitated funding for community programs throughout the San Fernando Valley. He has served his community on many boards – including as Treasurer of the Independent Cities Association (ICA) and Board Member of the Hispanic Elected Local Officials (HELO) – and has been a supporter of city youth programs throughout his career.
As a former schoolteacher and teacher trainer, Vazquez believes strongly in the importance of a quality education for all children. He was a member of the Santa Monica-Malibu Unified School District's Strategic Planning Committee, served on the School District's Feasibility Committee, and has played an active role in every local school board campaign for over twenty years.
Vazquez graduated from Santa Monica City College and continued his education at the University of Southern California where he received his degree. A resident of Santa Monica since 1984, he and his wife, Maria, have two grown children and one grandchild.
For more information, see Antonio Vazquez's Home Page.
---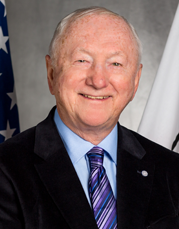 Mike Schaefer, Fourth District – Counties of Imperial, Orange, Riverside, San Diego, and a portion of San Bernardino County.
Mike Schaefer made history on January 7, 2019 in Sacramento when he took his Oath of Office as a member of the California State Board of Equalization from Governor Gavin Newsom, becoming the oldest freshman constitutional officer in state history.
Mike Schaefer serves as Vice Chair of the California State Board of Equalization, the only publicly elected tax commission in the United States. He represents 10 million people in five Southern California counties including San Diego, Orange, Riverside, San Bernardino and Imperial.
In 1965, when he was 27 years old, Mike also made history as the youngest person ever elected to the San Diego City Council, where he served for two terms.
Mike was born and raised in San Diego and attended schools in Hillcrest and Pacific Beach. He did undergraduate work at San Diego State and Notre Dame University, ultimately receiving a business degree from U.C. Berkeley and a law degree from Georgetown University.
Mike Schaefer began his lifelong career in politics, government, and the law by volunteering as a driver for John F. Kennedy's 1960 presidential campaign during the Democratic National Convention in Los Angeles. Since then Mike has served the public working in city, county, state, and federal government positions.
After graduation he worked as an investigator and financial analyst for the U.S. Securities and Exchange Commission and as a staff assistant for California U.S. Senator Thomas Kuchel.
Mike served on the San Diego City Council for two terms, from 1965 to 1971, representing a district in southeast San Diego. His tenure was highlighted by many accomplishments including the creation of community identification markers, which are still seen everywhere today, and the establishment of free parking on Veterans Day.
Mike began his legal career as a prosecutor in the San Diego City Attorney's office assisting local law enforcement.
Following his tenure with the city attorney's office, Mike went into private practice and became a champion for fair and equitable election law.
In 1972, he sued the San Diego County Registrar of Voters over the practice of listing candidates' names on ballots in alphabetical order. In Sumner v. Sexton, the court ruled that this kind of listing was a denial of equal protection and mandated in its place the random system that is used today. This decision was later codified in California Elections Code section 13112.
In Canaan v. Abdelnour, Mike sued the City of San Diego, which had barred write-in candidates. The California Supreme Court ultimately ruled in his favor against the city, permitting write-ins in local and state elections. (The U.S. Supreme Court later determined that the ruling does not apply to federal elections.)
In Schaefer v. Townsend, a case that he brought in 2000, the 9th Circuit Court of Appeals accepted his argument that a state may not enact residence requirements for federal candidates. In a decision applicable to all 50 states, the court found that only the U.S. Constitution may limit candidacies for the U.S. House and U.S. Senate.
Mike Schaefer's work as an attorney has also included cases before the State Board of Equalization, where he won substantial reductions in assessed valuation for homeowners. Mike supported the enactment of Proposition 13 and has pledged to protect its foundational principle of helping homeowners remain in their residences.
Mike has been a leader in his local Kiwanis and Rotary Clubs and is an active supporter of the San Diego Zoo and the San Diego Animal Rescue Mission.
He has two sons, Derek, who helps produce the Coachella Music Festival as a VP /General Manager of LA Touring at AEG Presents, and Michael, who is a housing manager in Las Vegas.
Mike Schaefer resides in San Diego.
For more information, see Mike Schaefer's Home Page.
---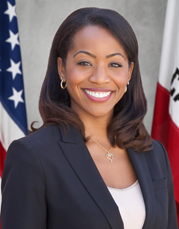 Malia M. Cohen, California State Controller
State Controller Malia M. Cohen was elected in November 2022, following her service on the California State Board of Equalization (BOE), the nation's only elected tax commission responsible for administering California's $100 billion property tax system. She was elected to the BOE in November 2018 and was Chair in 2019 and 2022. As Controller, she continues to serve the Board as its fifth voting member.
As chief fiscal officer of the world's fifth-largest economy, Controller Cohen's primary responsibility is to account for and protect the state's financial resources. Controller Cohen also independently audits government agencies that spend state funds, safeguards many types of property until claimed by the rightful owners, and administers the payroll system for state government employees and California State University employees. She serves on 70 boards and commissions with authority ranging from affordable housing to crime victim compensation to land management. Controller Cohen chairs the Franchise Tax Board and serves on the boards of the nation's two largest public pension funds, the California Public Employees' Retirement System (CalPERS) and the California State Teachers' Retirement System (CalSTRS) Boards, which have a combined portfolio of $750 billion. The Controller is one of eight statewide constitutional officials who are elected every four years in California.
As the BOE Board Member for District 2, she represented 10 million constituents living in all or parts of 23 counties extending from Del Norte County in the north to Santa Barbara County in the south. As Chair of the BOE, she led the effort to modernize California's property tax system, provide guidance to the 58 county assessors on remote assessment appeals board hearings, and utilize property tax abatements to stimulate affordable housing. Controller Cohen also ensured that the views of all who came before the Board were considered carefully, with respect, civility, and courtesy.
Prior to being elected to the BOE, Controller Cohen served as President of the Board of Supervisors of the City and County of San Francisco. As a Supervisor, she served as Chair of the Budget and Finance Committee and the Audit and Oversight Committee. During this time, she also served as President of the San Francisco Employees' Retirement System (SFERS), which at the time was a $23 billion pension fund.
Controller Cohen has championed policies and programs that protect public health, foster economic development, promote new affordable housing, and create good jobs through protecting and expanding San Francisco's manufacturing base. She has dedicated her career to public service, focusing on making public dollars work for all Californians.
Controller Cohen was born and raised in San Francisco and attended public schools. She received her bachelor's degree in Political Science from Fisk University and a master's degree in Public Policy and Management from Carnegie Mellon University. She and her husband reside in San Francisco along with their daughter.
For more information, visit the California State Controller's Office.